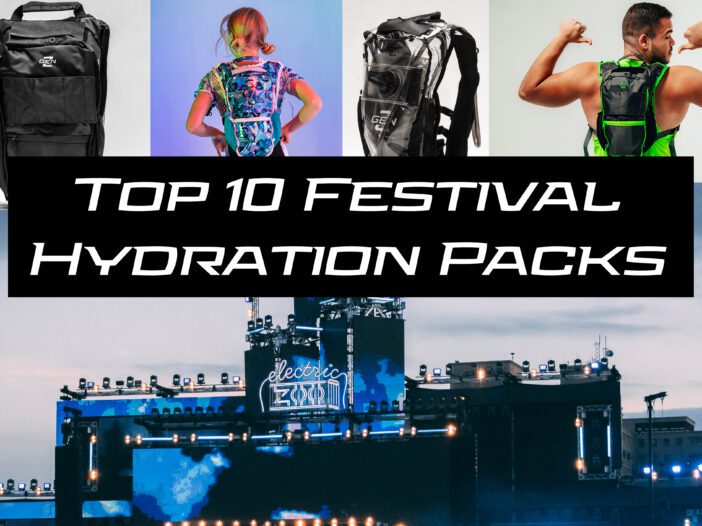 As a hardcore music festival goer, techno rave addict, and outdoor adventure enthusiast, I'm always on the lookout for the perfect hydration backpack music festivals. And let's be real, partying smart is the way to go, and staying hydrated is key. Especially when you're at a three-day camping festival and things can get crazy. It's so easy to forget to drink water when you're having a blast, but you got to stay on top of it.
With the extreme heat, trekking back and forth between the festival and campgrounds, and dancing like a maniac to your favorite tunes, hydration is absolutely vital to survival. So let's get you set up with the ultimate festival hydration gear, and keep the good times rolling all weekend long!
If you want to keep the party going strong and stay hydrated at the same time, you got to get yourself a killer festival backpack or rave camelback. Trust me, there are so many dope styles and brands out there, it's almost overwhelming. But don't worry, I've done the research for you and found the absolute best of the best!
These festival backpacks are seriously amazing, with top-notch reviews, a huge variety of designs, and they will keep you safe and hydrated on those wild dance floors all festival season long! Don't miss out on the chance to party hard and keep your hydration game on point. Let's do this, people!
---
If you're on the hunt for the ultimate festival hydration pack that boasts exceptional design and craftsmanship, look no further than the impressive RaveRunner Hydration Pack. What sets it apart is the meticulous attention to detail in its anti-theft design, premium materials used in its production, and customizable skins that allow for a personal touch
In addition to its fast refill hydration system, hidden pockets, and other dope features, purchasing a RaveRunner Anti Theft Hydration Pack or any of their other outstanding products, also makes you a part of the ever growing RaveRunner squad! With a community of RaveRunners all over any given festival. You'll be sure to find a fellow RaveRunner at any event.
As a proud owner and avid user of the RaveRunner Festival Hydration Pack, I can attest to its excellence and consider it the pinnacle of festival hydration gear. Don't settle for anything less, invest in a RaveRunner and elevate your festival experience to new heights!
This is hands down the best hydration pack for festivals!
Cost: $81.99
---
2.) RaveRunner X/RIG Chest Pack
Personally, I am not a fan of carrying a large, cumbersome backpack, even though I prefer having a generous supply of water on hand. Sometimes, the bulkiness of traditional backpacks can cause discomfort and overheating, which is why I recommend the RaveRunner X/RIG Ultra, another fantastic product by GenZ Outdoor.
This compact chest bag offers a surprising amount of storage, allowing you to comfortably carry 17oz of water, your phone, keys, vape, snacks, and even a long-sleeved sweatshirt. Chest bags have gained popularity recently due to their significant convenience factor, and the X/RIG is no exception.
The bag's front main pocket is designed to house your water and phone, while the adjacent pockets can hold everything else. For an added bonus, you can even fill the back panel with ice to help cool you down during particularly sweltering festivals.
While not explicitly advertised as an anti-theft product, the front storage configuration minimizes the chances of phone theft compared to traditional backpacks, where the phone is usually stored in the back.
For those in a hurry, the RaveRunner X/RIG Ultra is available on Amazon with prime shipping, with prices starting at around $70. Don't miss out on this versatile and convenient chest pack!
If you like a minimal design and carrying capacity, this is the best rave bag.
Cost: $69.99
---
The Vibrelli Hydration Pack is a highly practical option for the budget-conscious raver or festival attendee. It boasts comfortable and adjustable straps, easy accessibility to the water hose outlet, and a modest amount of storage space for smaller items.
If you prefer a lightweight and minimalist design, this pack will surely suffice. However, for those seeking to carry additional larger items, such as a GoPro or camera, a larger festival backpack from our list of recommendations may be a more suitable option. While not necessarily the most fashionable or trendy rave accessory available, it provides a highly cost-effective solution for your hydration and storage needs.
Cheap and easy to use.
Cost: $25
---
In the upcoming festival season, it's possible that you might encounter some venues requiring a clear camelbak backpack for entry. While the rationale for this requirement remains unclear, it's worth noting that GenZ Outdoor has produced a clear plastic hydration pack in the form of their RaveRunner anti-theft rave hydropack.
This festival bag offers the best of both worlds, providing a transparent exterior that will enable you to meet the requirements of venues while also offering anti-theft protection for your valuables. If you plan on attending an event with this regulation in place, this clear camelbak backpack is an ideal choice to help you get through security with ease.
Many festivals require clear bags and this one is ALSO anti-theft, great choice.
Cost: $81.99
---
As festival regulations become more stringent and limit pockets to a maximum of two, festival attendees seek solutions that offer convenience without violating these restrictions. The Camelbak Mule hydration pack presents a reliable alternative that fulfills this need. While it may lack the anti-theft features of other options mentioned above, it still offers excellent functionality as a festival hydration backpack. However, it's essential to take good care of personal belongings like your phone or consider pairing it with a fanny pack to keep them secure.
You can purchase this pack via the provided link or at your nearest outdoor store, including REI. Therefore, if you're en route to a festival, this may be a smart addition to your gear.\
Cost: $59
---
Upon researching this particular hydration pack, it appears that while it may suffice for casual use, it may not be the best option for the dedicated raver or festival-goer. After analyzing the reviews and feedback from consumers, it seems that this particular model has a tendency to break easily and could potentially result in an unpleasant and inconvenient situation, as the backpack could become quite wet due to the broken hydration system.
Additionally, it should be noted that while the numerous pockets may be useful for those embarking on a weekend-long hiking excursion, they may not necessarily be practical or necessary for the typical festival experience. Therefore, it is important to consider the specific needs and requirements for the event you plan to attend when selecting a hydration pack.
Cost: $59
---
Indubitably, this minimalist hydration pack may not be the most feature-rich option, however, it undeniably gets the job done. For those seeking a small, yet stylish and exceedingly affordable alternative, this bag is sure to tick all the boxes. With a plethora of holographic colors and fun prints to choose from, you can effortlessly match this bag with your festival outfits, making it a versatile addition to your festival gear. Remarkably, on Amazon alone, this bag boasts an impressive array of 15 different styles to pick from.
Notwithstanding, it is prudent to mention that there have been a few unfavorable reviews regarding this bag. According to some users, the bladder is prone to breaking fast, while others have experienced issues with the bag tearing apart after limited use. Nevertheless, given the wallet-friendly price point of only $30, these negative occurrences are not entirely surprising. Taking good care of your bag is vital and with proper use, it should last you an entire festival season.
Despite the negative feedback, there are also many rave reviews from contented users who have owned and used this bag extensively. Therefore, it would be judicious to conduct thorough research to ensure this is the right hydration pack for you.
Cost: $60
---
Among the myriad of Camel Backpack options available in the market, this particular one stands out as a top contender owing to its perfect size, optimal weight, and sleek minimalist design. Not only does it offer great functionality, but it is also aesthetically pleasing.
One of its notable features is the ergonomic handle that facilitates easy refilling, while the magnetic tube trap ensures the tube is both secure and easily accessible. Additionally, the air-director back panels promote air flow, preventing excessive perspiration and ensuring your back stays cool and comfortable.
Furthermore, this backpack provides ample storage space and is remarkably comfortable to wear. Moreover, it comes with the coveted "The Got Your Bak Lifetime Guarantee," which covers all reservoirs, backpacks, bottles, and accessories against manufacturing defects in materials and workmanship for the entire lifetime of the product!
Cost: $140
---
9.) Vibedration 2 liter Festival Bag
This line of festival backpacks is quite appealing due to its spaciousness and attractive design. It is particularly suited for individuals who prefer to have a multitude of items with them while attending events. Among these, the Vibedration Festival Hydration Backpacks stand out with their vivid and flamboyant patterns, which are sure to add flair to any ensemble.
Cost: $69
---
10.) Orange Mud 2 Liter Rave Pack
This particular hydration backpack is designed to combat the sweltering conditions of outdoor festivals. While originally intended for use in endurance sports, the pack boasts a higher profile, allowing for the release of trapped heat, which can otherwise become oppressive when covered by fabric. The pack's secure fit is bolstered by shock-absorbing clips that cater to all body types, ensuring that it remains snug throughout the day. The chest pockets are another notable feature, as they are equipped with rope clips for complete closure.
For those seeking a versatile hydration backpack that can serve them well at festivals and during athletic activities, this option would be an excellent choice. Additionally, Orange Mud offers a variety of hydration backpacks in different sizes to cater to a wider range of preferences.
Cost: $90
---
Conclusion
As you can see, I have given you a great amount of rave hydration bags to try. I would advocate you incorporate you goals, costs, and how long you believe you will rave. All in all, this guide to rave hydration packs should give you a great start to staying hydrated while raving.