Description
MAXIMAL STORAGE
1 x Large pocket for Phone + Wallet
1 x Outer pocket for Keys + Cash + Cards
1 x Back Mesh Pocket for large items
Designed For Comfort
Anti-Chafe Neoprene Shoulder Pads
Smooth Nylon Webbing
Non-Abrasive Nylon Straps
Fits all Body Types
Adjustable shoulder and chest strapsfor snug fit on both men and women regardless of chest size.
High Visibility
Reflective logo on Back panel
Multiple straps to attach clips/lights of choice.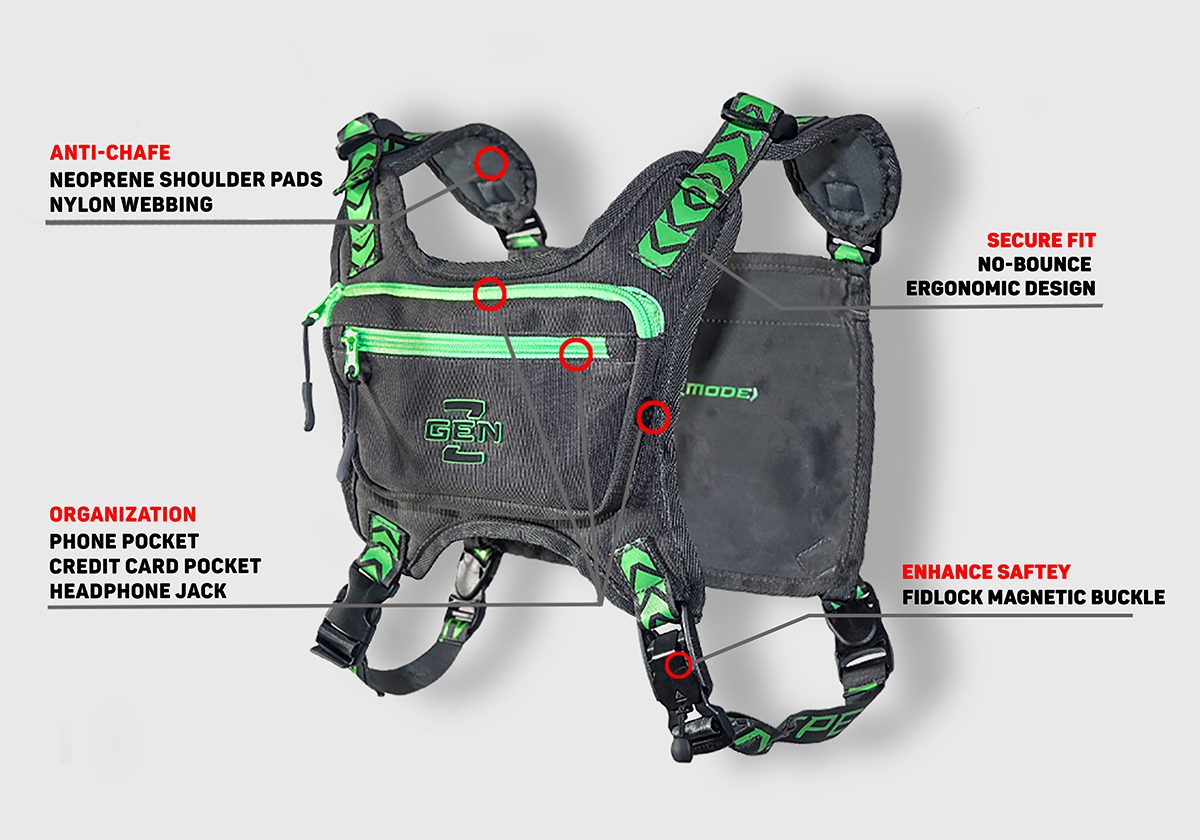 This minimalist chest pack is the official chest bag for any outdoor adventure. This crossbody bag will fit all body sizes comfortably regardless of chest circumference. With adjustable chest and shoulder straps, the X/RIG 1 can from large to extra small in 10 seconds.
While remaining a small chest utility bag, the X/RIG 1 has no shortage of storage options. The main front pocket is large enough to fit a wallet and large iPhone. A headphone jack is strategically placed on the side from organization of your cords while keeping all pockets of the chest pack closed. We placed an exterior pocket that fits car keys, cash, cards, chapstick, and space for more items. Finally, we added a large mesh pocket on the back panel to store your large items when outdoors.
The entire chest pack features minimally abrasive materials.
Shoulder pads were designed with neoprene to reduce chafe on your traps.
3D Techno Spacer mesh was added to stop skin irritation
This Chest bag features smooth nylon webbing, with further decreases the possibility of chafe.
The straps keeping the chest bag secure to your torso are crafted with supremely soft nylon. With all these materials
Our logo was embossed on the back panel making it into the perfect reflective running vest to increase visibility in dark conditions.
Whether going on a run, hike or to a music festival, this chest bag is the perfect accessory.
SPECS
• Front Panel dimensions: 10 x 9 x 0.5
• Main Front Pocket dimensions: 8.25 (taper to 6.25) x 5 x 1 inches
• Exterior Front Pocket dimensions: 6.25 x 3.25 x 1 inches
• Back Panel dimensions: 9.5 x 8 x 0.5 inches
• Back Pocket Dimensions: 9.5 x 6 inches